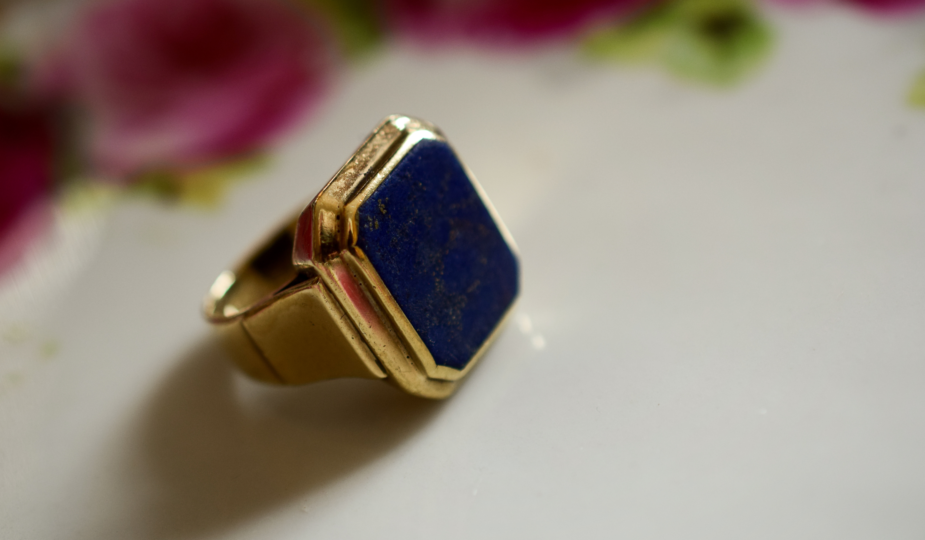 Jewellery
Classic Signet Rings You Won't Take Off
Long back in history, the signet ring was considered as the "original signature". It showcased authenticity more than a written signature. Royals and aristocrats were the sole owners of these rings then. More specifically, the rings belonged to men only. The signet ring represented the beholders status in society.
There is a vast range of variety in signet rings. The monograms, family crest, intaglios belonged to a particular community or person. The Signet rings with family crests were passed down to the next generation to carry forward the legacy. These rings with a personal identity were destroyed to ensure no replication.
However, with evolved material and processing methods, the signet rings have now become a fashion accessory. These rings have had a remarkable rise in demand after the modernization of their designs and styles.
Yet, the traditional style and design are still in demand. These prehistoric signet rings hold a sense of class and elegance.
Let's have a look at the most favoured signet rings of all times:
Rose Gold Pinky Signet Ring
The royal and the aristocrats originally wore the signet rings on the pinky finger of the dominant hand. These rings were then used to seal documents or reflect one's status.
Whereas the pinky finger rings are now labelled as the most desired chic accessory. In addition to this, the rose gold signet is remarkably praised. A sleek rose gold band looks endearing. You can also go for the embellished or artistic designed pinky rose gold signet rings. You will undoubtedly love these classics.
2. Heart-Shaped Gold Signet Ring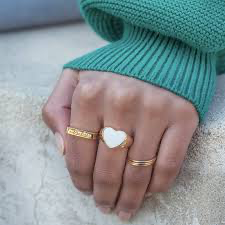 A heart-shaped ring is the easiest way to carve out your feelings. This signet ring looks super classy and cute. The gold adds luxury to this romantic piece. These rings are customisable. You can add the initials or the gemstones to them according to your preferences. These beautiful rings are considerably affordable and never out of fashion.
3. Pave Diamond Signet Ring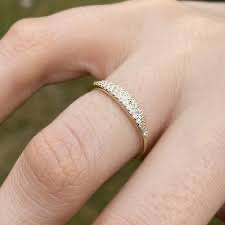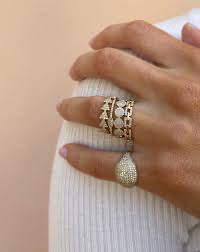 Who isn't interested in that extra spark? Pave diamond rings are all about shine and luster. These small diamonds are decorated in a setting to give a continuous sparkle.
Pave diamonds accentuate the bigger diamond of the signet.
These signet rings are true examples of class and brilliance. The pave diamond bands are a great choice for people who love stacking.
4. Sterling Silver Black Onyx Signet Ring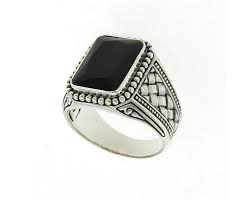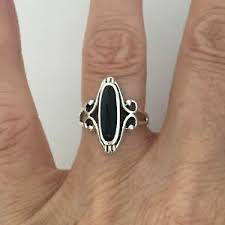 Black onyx signet rings symbolize protection and self-control. There is a belief that these rings provide a shield against negative energy. This stone is frequently used in bohemian jewellery making. The black onyx looks astonishing when metaled in sterling silver. Its charisma never fades away. You have gotten to have this ring for its marvelous healing and spiritual traits.
5. Chain Signet Ring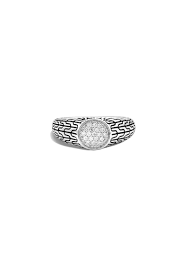 Another magnificent piece of art, chain signet rings, have evolved with actual class and style. These fabulous rings look out of the world. The chainrings have plenty of variations in designs and shapes.
The silver chain signet rings are the most favoured chainrings. It's an ideal gift for men. Ornamented with gemstones and diamonds, these signet rings look no less than a masterpiece. Chain signet rings gel with all your casual attire.
6. Classic Gold Signet Ring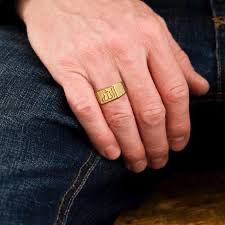 Check out the gold signet rings for the vintage and traditional designs. Gold rings have been a prime metal to make ornaments since ancient times. It depicts wealth and luxury. The gold vintage rings are often seen as an asset.
The gold rings are ideal for engraving crests or adding gemstones. The oval mounted, and flat round gold rings look antique and classic.
Plenty of modern designs are up for grabs. Find the one that matches your style.
7. Hematite Intaglio Signet Ring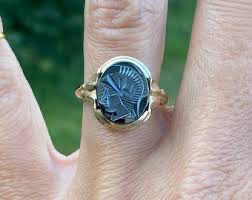 This highly refractive signet ring deserves to be in your collection. Also referred to as the "Black diamond", the hematite intaglio ring symbolises transformation. The richness of this stone makes it a prized possession.
Hematite intaglio rings have a magnificent historical significance. These rings were considered to bring luck during court proceedings. These signet rings are still very popular among legal professionals.
8. Blank Signet Ring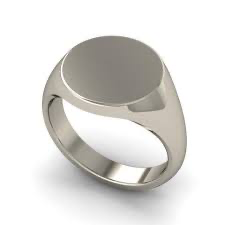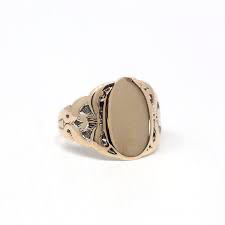 Blank signet rings are examples of style and simplicity. These statement rings will grab everyone's attention effortlessly. These rings are flat at the surface with carvings on the sides. Blank signet rings are available in a huge variety of shapes and designs. You can buy these rings in a variety of metals now. The blank signet rings are very affordable and always look spectacular.
Every person has a unique sense of style and fashion. And as Coco Chanel quotes, "Fashion changes but the style endures". Stay true to your uniqueness. Keep up with trends but carry your individuality gracefully. Always choose the accessory that enhances your style while flowing with the current trends. You are here to slay !!