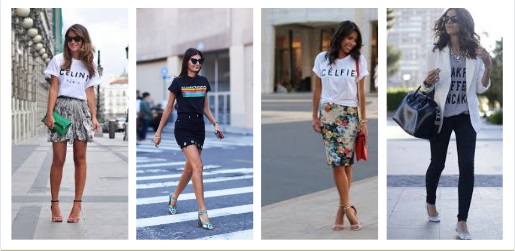 T shirt
How to Dress Up a Graphic T-shirt
The graphic t-shirt is a very versatile clothing piece that can be used to create all kinds of modern and trendy outfits. Even though they are often associated with more casual looks, they can look exceptional when dressed up. Additionally, they are really comfortable and can help you make more intricate outfits.
Business Casual
Pair your favorite graphic t-shirt with blazer and office-ready trousers. This combination will instantly make the look professional. However, the t-shirt will give the look a fun twist. You can either go for a monochromatic look and add a pop of color with a graphic design on a t-shirt or try to match the colors on your t-shirt with your overall outfit.
Bold Skirt
You can dress up your graphic t-shirts with a statement skirt. While the skirt will make the outfit unique and help it stand out, the t-shirt will help keep things balanced and will add a casual twist to the outfit. Matching clothes you wouldn't normally put together is very fashion-forward and will result in current looks.
Mini Skirt and Heels
Make a contrast between these two pieces. Try to wear a basic mini skirt. This will help the t-shirt to pop and make it the star of the outfit while keeping the outfit balanced. You can also tie your t-shirt to accentuate your waist and make your legs appear longer, or tuck it into the skirt. Pair this look with heels and some matching accessories to complete it.
Make an Outerwear the Star of The Outfit
Pair your graphic t-shirt with a statement jacket or a coat that will transform your outfit into a stylish and modern look. Look for a jacket with an interesting pattern or a coat with a bold color. This way you can dress up your basic outfit and make it stand out. You can also play with contrasting colors and match different textures to keep things interesting. If you are wearing an oversized jacket, try pairing it with a belt that will cinch it in at your waist.
Accessorize
Start from a classic look of graphic t-shirt and jeans and dress it up with accessories that will elevate the look. Look for bold pieces that can bring versatility and make the outfit appear sophisticated. Add some high heels to complete the look. Good pair of shoes can easily transform basic outfits into chic looks.