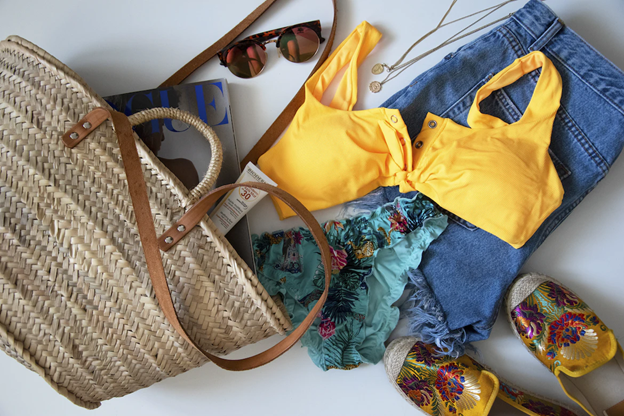 Can you feel it? Summer's almost here, so it's time to start brushing up on summer fashion trends! Summer offers so many opportunities to get out in the sun, have fun, and explore new horizons.
While we've all got our summer favorites, adding a seasonal trend personalizes your look, refreshing it with a nod to the fashion gods. There's something to appeal to everyone here, so read on and get ready to meet summer head-on with these trendy updates.
Pockets With Everything
This summer, pockets are on everything from traditional cargo pants to women's suits. In fact, summer 2023 promises so many pockets that you can practically leave your bag at home! The cargo trend is practical and being reinterpreted in so many fresh, new ways on catwalks all over the world. From the catwalk to the sidewalk, this trend is being embraced as one of the most important for summer 2023.
Choose light cotton trousers or a gauzy, ankle-length cargo skirt. Cargo shorts are out there too, so team them with fashion tank tops for a breezy summer look that's on point, in the utilitarian spirit of cargo styling. Just add the season's large format shades and a pair of kicks and you're off. And you're hands-free because with all those pockets, who needs a handbag?
Shine On
For summer 2023, metallics are everything from a molten gleam to a subtle sheen and everything in between. And silver is just the right metallic for everyone, flattering all skin shades. Sequins, rhinestones, leather, pleather, and spandex all feature in this trend, so find your groove and slink into it.
This year's summer metallics are miniskirts and dresses, cowboy boots, shorts, jackets, sleek jumpsuits, and skin-tight catsuits. But if you're choosing silver, don't forget that mixed metals are also in the spotlight for 2023, so add an earring stack and a smart cuff bracelet in gleaming, gold-tone metal. And don't forget to check out the pastel metallics being seen on high fashion runways this year in soft pastels, like pink, green, and lavender. Throw on a crochet halter with a metallic mini and shine on! Add a fringed hobo bag and ankle boots to complete the look.
Peek-a-Boo!
Summer is the time to shed those transitional layers and bare a little skin. But summer 2023 does the season of minimal clothing one better with sheer fabrics, mesh inserts, and an abundance of cheeky cutouts.
Sheer blouses (some with ruched sleeves) are being seen on catwalks and city sidewalks everywhere. Wear the trend with a crop top and cargo shorts. Top it with a bucket hat, striding out in platform espadrilles. Or go full vixen in a body-con dress with mesh inserts, then bust out the towering heels to rock that monster pool party. Racy rompers with cutout backs or sizzling swimsuits with asymmetrical cutouts extend the trend, adding a new dimension to your summer wardrobe.
Shake It Up
Fringe never really goes anywhere except underground, where it breaks through intermittently to grace us with its glamorous, textural movement. And for summer 2023, it's time to get your fringe on everything from skirts to dresses to handbags and even boots.
Swimsuits have not escaped the fringe trend and why should they? What's more wild and free than fringe? Crochet bikinis and one-piece suits designed with fringe bring back the Summer of Love, while more sophisticated looks in neoprene and high-end textiles bring Hollywood Babylon glamor to the beach. Evenings call for looks dripping with fringe in sweet, sinuous styles that take your inner flapper out on the town. Just add flip flops for a carefree, summery touch of insouciant chutzpah.
Inside Out
Lingerie is coming out of the closet this year, seen in bralettes as outerwear, slip dresses, and lacy confections that venture well outside the boudoir. Corsets feature prominently, built into dresses or worn with skirts, pants, and under suit or jean jackets. Often paired with mesh and other sheers, this year's corsets are in-your-face scandalous. Give them something to talk about with a corset under a cropped jean jacket!
Try a crochet or metallic leather bralette, from scanty to modest. You choose how daring you feel! Worn with this season's fringed skirt and sandals, just add Jacqui O shades to own the boardwalk. Or choose a maxi slip dress, embellished with lace and worn with metallic cowboy boots. Tie a fringe scarf across your body diagonally for a touch of seasonal Boho chic.
Summer Fashion Fun
Is there anything more fun than summer? Don't you think your fashion should reflect that fun? Get adventurous with these 5 summer fashion trends. Blend them together, integrate them into your existing wardrobe, and have the kind of fun that gets you seen.
Like summer, fashion trends don't last long, so enjoy them both. Have some fashion fun with these exciting, trendy additions to your summer wardrobe!
Top Image source