Now that your wedding is over, it's time to gear up for your honeymoon! And, just like your wedding, it requires prepping and planningーespecially when it comes to your wardrobe.
Whether you're going to a tropical paradise or a quaint, historic town, here are nine outfit inspirations you should consider for your honeymoon!
1. Take the Plunge
Go bold on your honeymoon by wearing a plunging neckline honeymoon dress. While undeniably sexy, this look is perfect for special dinners and late-night walks on the beach with your forever partner. Glam up this outfit idea with a long, ornate necklace, or make it modest by wearing a bralette or bandeau underneath.
2. Chill in Cut-Outs
A stylish alternative to a plunging neckline outfit, a cut-out dress is a fun outfit idea for your honeymoon! This modern style is an excellent choice if you want to show off areas of your sun-kissed body. Just be careful of the sun, or you may end up with a cut-out-shaped sunburn.
3. Charming Crochet
If you want to look cool (and feel cool) by the beach, then make sure to pack a crochet dress in your suitcase. It's a light yet fantastic addition to your honeymoon wardrobe. You can wear it as it is or pair it with a light jacket. Since it's somewhat sheer in nature, you can also use it as a swimsuit coverup for the beach or pool!
4. Sexy in Sheer
Set the mood by alluring your betrothed in a sexy, sheer dress. Layer a spaghetti strap mini dress underneath or your favorite bikini for a look that can take you from the beach to the bar and anywhere in between. This outfit idea is easy to dress up and down, depending on your choice of layers and accessories!
5. Make Waves in a Maxi
No honeymoon trip is complete without a maxi! This flowy dress is a definite must-have, as you can wear it from sun up to sun down. Sport your maxi dress with a floppy hat and sandals for the beach. You can also choose to glam up your maxi for a romantic dinner by pairing it with a statement necklace, a cinching belt, and heels. This outfit has endless style possibilities, so don't forget to pack one for your honeymoon trip!
6. Marvel in a Mini
While a maxi dress is a sunny destination must-have, a mini dress is also a true-blue essential for any honeymoon destination. This outfit idea is sophisticated enough for a romantic dinner and sexy enough for clubbing right after. You can style it in multiple ways, making it a multi-purpose addition to your honeymoon wardrobe.
7. Revel in a Romper
Headed to a tropical getaway? Then make sure to bring a cute romper to your destination. It's perfect for romantic strolls down the beachーas well as excursions outside the resort. A truly versatile outfit, it's another piece you can take from day to night. It's just a matter of wearing it with a cute blazer and strappy heels for the perfect nighttime outfit!
8. Pick a Pretty Pant Set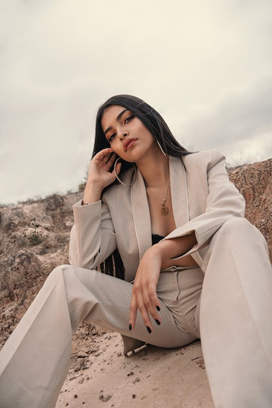 Apart from bringing any (or all) of the honeymoon outfits above, a pretty pant set will come in handy as well! A truly stylish ensemble, it's something you can wear to a high-end restaurant or a special resort event. While it's more formal than the other outfits in this list, it's an outfit you can also dress down for a more casual look. You just need to fold the pant cuff or wear it with a casual, fun shirt underneath. Another great thing about this set? You can create multiple outfits by mixing and matching the pieces with the rest of your tops and bottoms!
9. Be Bold in a Button-Down Outfit
Although a button-down top is best for the office, it is also a great addition to your honeymoon ensemble! It's versatile, as you can wear it with any of the outfits above. You can even match it with the pants from your set! If you're after a more playful look, unbutton a few of the bottom buttons and tie the shirt tails into a knot. Not only will it make your outfit more laidback, but it will also accentuate your waist!
Dress Up
Your honeymoon may be a time for fun and sexy outfits, but it's also an opportunity to dress yourself up to the nines. With these nine honeymoon outfit inspirations, your forever partner will be more than impressed!